Board of Directors
Configuration
Category
Gender
Name
Main Career
Area of Specialty
Date of Appointment
Internal Director
male
Jae-hong Heo
CEO of Seronics(present)
Management, chemistry
March 18, 2011
male
Je-hyeon Heo
Senior Vice President of L&F(present)
Management
March 22, 2018
male
SuAn Choi
CEO of L&F(present)
Management, chemistry
March 17, 2021
Independent Director
male
Gyun-bal Lee
CEO of DAEGYEONG ACCOUNTING CORP.
Accounting
March 26, 2019
male
Jae-hak Jeong
Chaiman of the Informatization
Commitee of the Korean Insitute of Chemical Engineers
Chemistry
March 26, 2019
male
Jeom-su Kim
Professor, Department of Chemical Engineering of Dong-A University
Chemistry
March 17, 2021
male
Ki-seon Park
LG Philips LCD President
Chemistry
March 22, 2023
female
Kyunghee Kim
Internal Director of JUNGJEONG ACCOUNTING CORPORATION
Accounting
October 25, 2023
Current status of the committee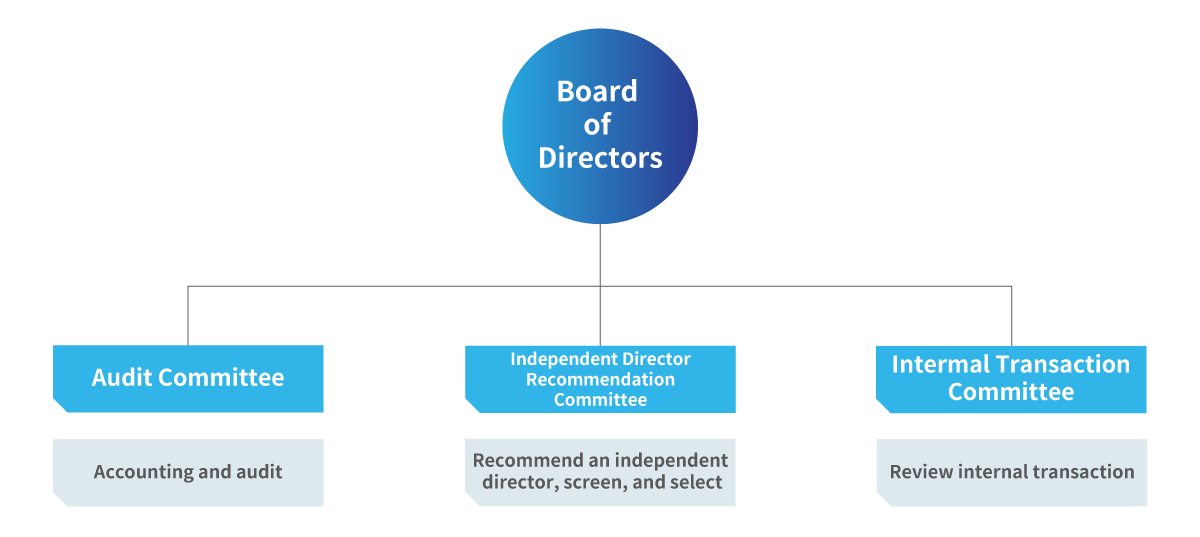 the composition of a committee in Board
Category
Name
Gender
Audit committee
Independent Director Recommendation Committe
Internal Transaction Committee
Internal Director
Jae-hong Heo
male
●
Je-hyeon Heo
male
SuAn Choi
male
Independent Director
Gyun-bal Lee
male
●
○
○
Jae-hak Jeong
male
○
○
○
Jeom-su Kim
male
○
○
○
Ki-seon Park
male
○
●
Kyunghee Kim
female
※ ● : Chair, ○ : Commissioner
Code of Ethics
Our company will strive hard for the growth and development of all related parties including our stock members and increase the company value by progressive and effective management activities. As a corporation, we will put our maximum effort to sincerely fulfill our duties and commitments. Our company respects all of laws and market system in the world & leads in establishment of fair transaction system. We also respect the cultural values and customs and contribute the development the country and the society by various social service activities.
CEO

I. Promise to Shareholders and Investors
1. Protection of shareholder's benefit

- The company respects the legitimate request and advice of its shareholders and protects their rights.

- The company will be sincere in sharing its management informations, establish mutually trusting relationship between shareholders and investors and put effort for the maximization of shareholders profit.

2. Equal Treatment

- The company gives equal treatment to all its shareholders including the small shareholders.

- The company always have decision-making for all shareholder to prevent violation of the rights of the small shareholders.

3. Co-operation for giving information

- The company will record and maintain the accounting douments accourding to IFRS and be clear in providing financial state and business outcome information.

- The company will provide management information timely according to the related laws and regulations so that the investors and others can take reasonable investment decisions.
II. Promise to Customers
1. Respect to Customers

- The company always thinks from the point of view of customers, and by providing best products and services which satisfies the customer and increase their trust, the company strives for the fulfillment of customer satisfaction.

- The company provides detail products information and kind service to the customers and it restrains itself from exaggerated advertisements.

2. Customer Protection

- The company protects the customer's personal informations, profit and safety and restrains from unjustified activities.

- The company respects and comply with the laws and regulations related customer protection.
III. Promise to Competitor and Supplier
1. Fair competition with Competitor

- Company is fair according to the free competition principle, respects the free market economy and has fair competition with competitors.

- Company is respects the fair transaction process and comply with the laws and regulations related to fair transactions.

2. Fair Transaction with Supplier

- Company has constructed a mutually-trustable and cooperative relationship with its supplier through fair transactions and it pursues the joint development along with the partners.

- Company does not use its superior position to do any injustice conduct or influence.
IV. Promise with Employees
1. Fair Treatment

- The company does not treat its employees with injustice or discrimination and gives them opportunities according to their ability and talent.

- The company gives fair evaluation and compensation to the employees by set up evaluation standard with respect to employee's talent, ability, work achievement etc.

2. Work Environment

- The company try to provide healthy and safe work environment to its employees.

- The company respects the employee's individual freedom and creativity and provides fair opportunities for development of their skills.

- The company respects the independent character and basic rights of its employees and build up an environment for employees to speak up liberal suggestions and proposals to company.
V. Promise to the Society
1. Compliance with Laws and Regulations inside and outside the country

- The company not only follows all of laws and regulations as a member of the country and local society, but also it complies with the international laws and regulation.

2. Contribution to the development of society and country's economy.

- The company contributes to the development of society and country's economy by increasing productivity, hiring people, sincere payment of tax, social contributions etc.

3. Environment Protection

- The company does its best for the protection of nature and preservation of clean environment.
VI. Fundamental Ethics of Employees
1. Establishment of healthy work culture

- The employees share the company's management ideology and by having consensus towards the aim and value of the company, they sincerely carry out the duties given to them according to the company's work plan.

- The employees create a organizational culture by having harmonious communication with other top-bottom employees and colleges, and having mutual trust.

- The employee performs the duty given to them by appropriate method and uttermost effort and comply with all the laws and company's regulations related to the work.

2. Prohibition of Conflict on Economical benefit

- The employee puts effort to ensure that non-occurrence of any activities related to the conflict Economical benefit in the company. In case of conflict of Economical benefit between company and the individual or his position, the profit of the company will prevail.

3. Prohibition on using of Internal Information

- The employees don't do stock trade by using internal informations acquired during work.

- The employee should not provide the confidential informations, without following appropriate procedures, to the 3rd party which could influence stock prices.

4. Protection of Company's Assets and Confidencial Informations

- The employee protects the physical assets, intellectual property and confidencial information etc of a company and does not use it for private purpose.

- Employee does not use his/her position to pursue private gains, and does not do unfair transaction activities by using confidential informations obtained from the company.

- Employee do not leak important informations to the outside of the company which could have an influence on the profit of the company.

5. Prevention of Sexual Harrassment

- The employee abstains from any kind of sexual humiliation including physical, verbal, visual words or activities and those which harms the healthy relationship between co-workers.

6. Prohibition of Political Involvement

- The employee does not get involved in political activities during work hour inside the company and does not use the organization, manpower and assets of the company for any political purpose

- The political right and political opinion of each and every employee should be carried out in personally. It should not be seen as a company's point.

7. Ban on Monetary gifts or Bribery

- Employee does not receive money or gift and special treatment from the clients who have a profit-loss relationship with the company.

- Employee does not give any cash or any exceptional gift and treatment to the client which has business relationship with the company.

- Employee does not give or receive cash or excessive gifts and treatments each other.

8. Compliance with Ethical Principles.

- All Employees should comply with ethical principles and in case of its violation they should take responsibility for their act.

- Employee who recognizes an activity or injustice behavior which against ethical principles, they should report it to the code of ethics department.

- The employee, in case of violation of ethical principles, should prevent from re-violation through examination of the cause and education.
Respecting human rights and Developing Talent
L&F actively ensures and respects the dignity, freedom, and rights to happiness of individuals.
L&F implements this global human rights and labor policy across all its workplaces worldwide,
conducting ongoing monitoring to assess and improve human rights and labor-related risk factors.
Information Security Management
L&F prioritizes the safeguarding of information assets for both Internal and external stakeholders, especially partners directly involved in the value chain, making information security a paramount concern. Given L&F's possession of national core battery material technologies, we operate a data security management system covering the production, research, and management of core technologies in adherence to the Act on prevention of Divulgence and Protection of Industrial Technology. Additionally, we have acquired international certifications such as ISO 27001(Information Security Management System) and ISO/IEC 27701, continually elevating our Security management standards.
Information Security Board structure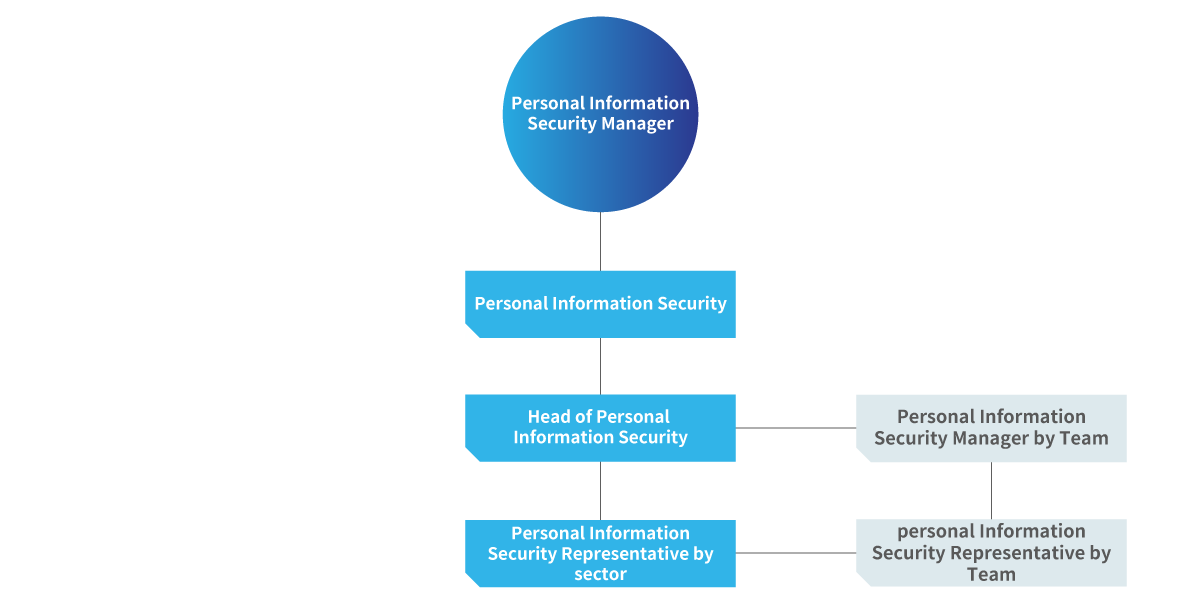 Securlty Incident Response & Recovery System
Security Incident Response Process
We have established a security incident reponse process to promptly and effectively address incidents, minimizing associated damages. This process has been made public, and all employees are actively participating in the related training and procedures. By doing so, we are instilling a culture of information security into our daily routines.
Responsibilities and Authorities of Security Incident
The security incident response process stipulates the responsibilities and authorities of the Information Security Officer, the Information Security Manager, and the Security Personnel, respectively, in the event of a security incident.
The Information Protection Committee decides on the incident-handling direction on severe security accidents and requests cooperation from related external insititutions while revisioning and deliberating on information protection policies.
Follow-up Measures on Security Incidents
Following a security incident, we conduct a thorough review of the relevant processes to prevent any recurrence of the same issue. In our efforts to avoid recurrence, the Information Security Officer provides training, reviews the incident response system, and maintains a record of past incidents. Furthermore, we enhance the educational materials regarding security incident response to bolster our preparedness
Environmental, Health, and Safety Management
Environmental, health and Safety system establishment
Committed to these ideals, secured its Environmental Safety Management System ISO14001 certification in 2007 and has diligently maintained its certification status. Beginning in 2018, L&F also achieved the Occupational Health and Safety Management System ISO45001 certification. L&F has been tenaciously refining its environmental safety and occupational health and safety management systems, capitalizing on insights gained during the ISO 14001 and ISO 45001 certification processes. Moving forward, L&F is poised to fortify its integration with the overarching sustainable management infrastructure of the organization.
Environmental, health and Safety board structure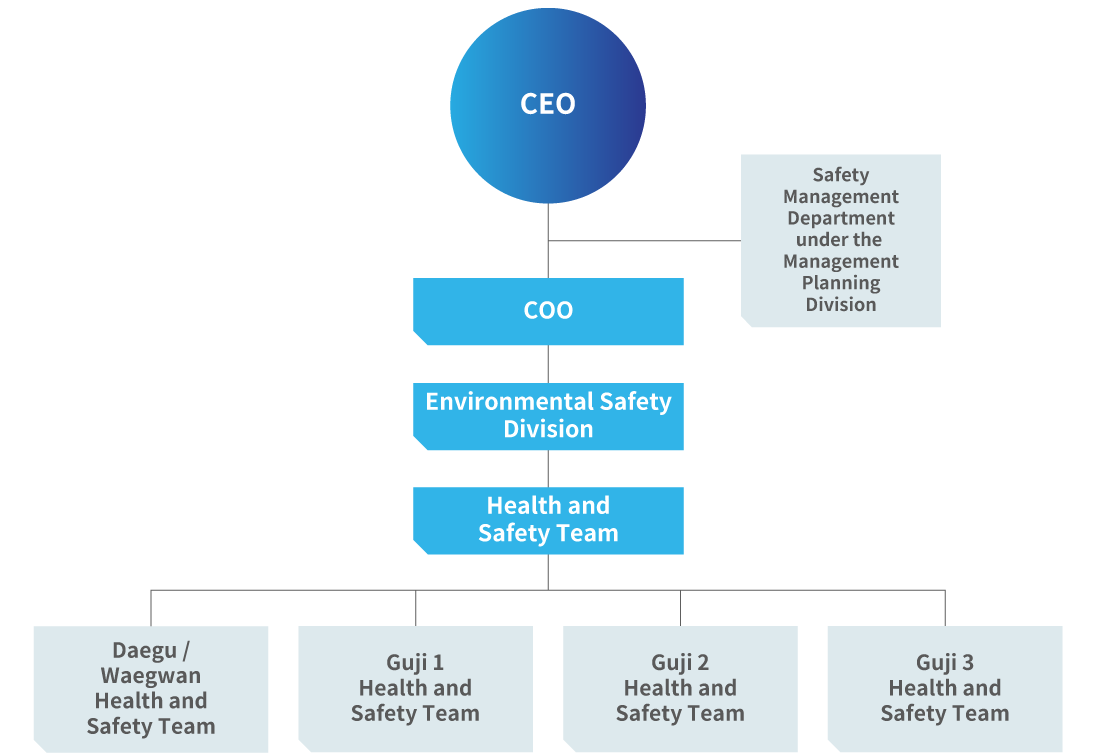 L&F conducts various campaigns and education programs to foster a culture of internal safety.
Through events and training, all employees actively participate to enhance safety awareness.
Additionally, monthly environmental safety days are organized to increase workers' awareness and interest in safety.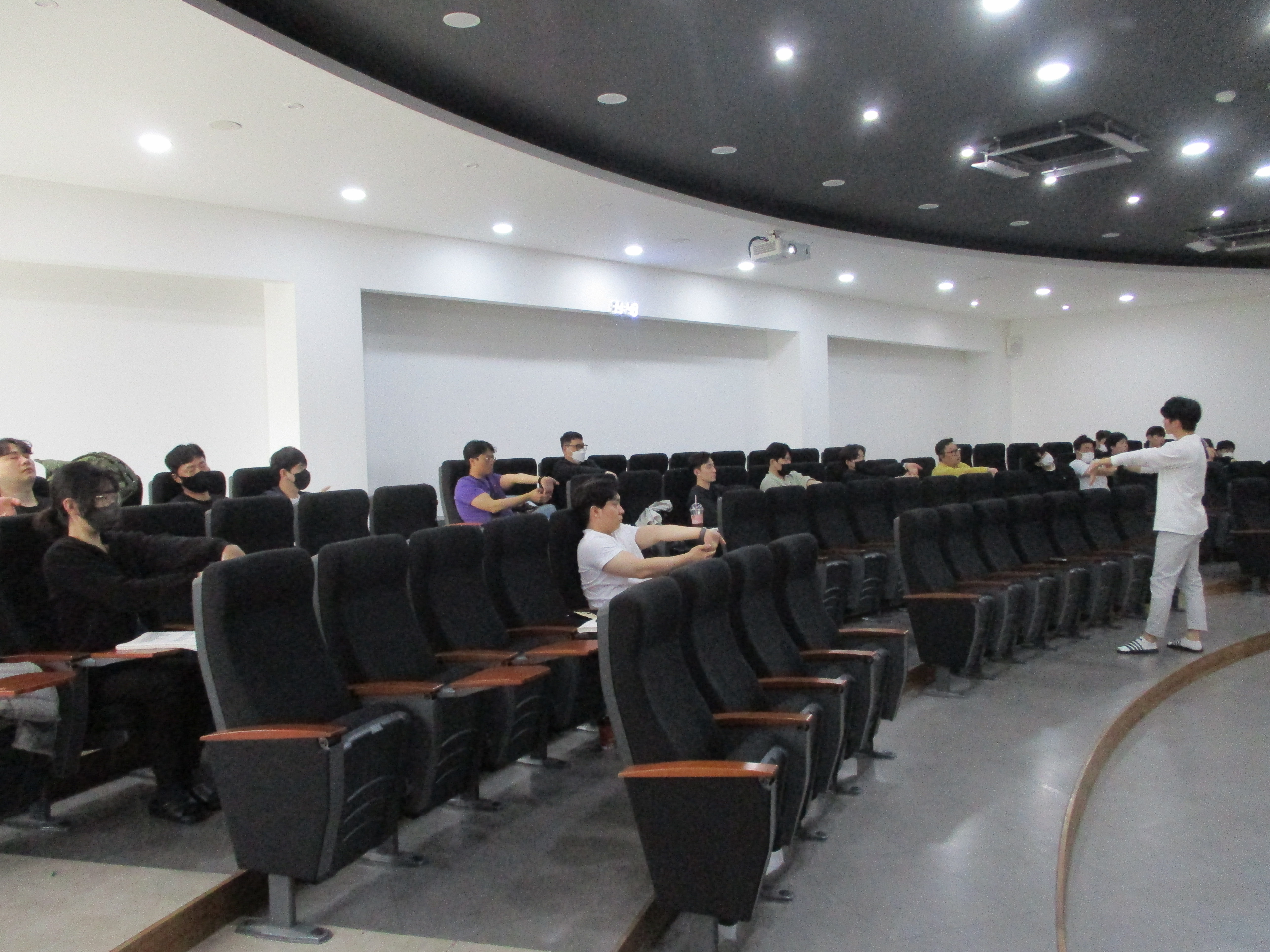 management servivor training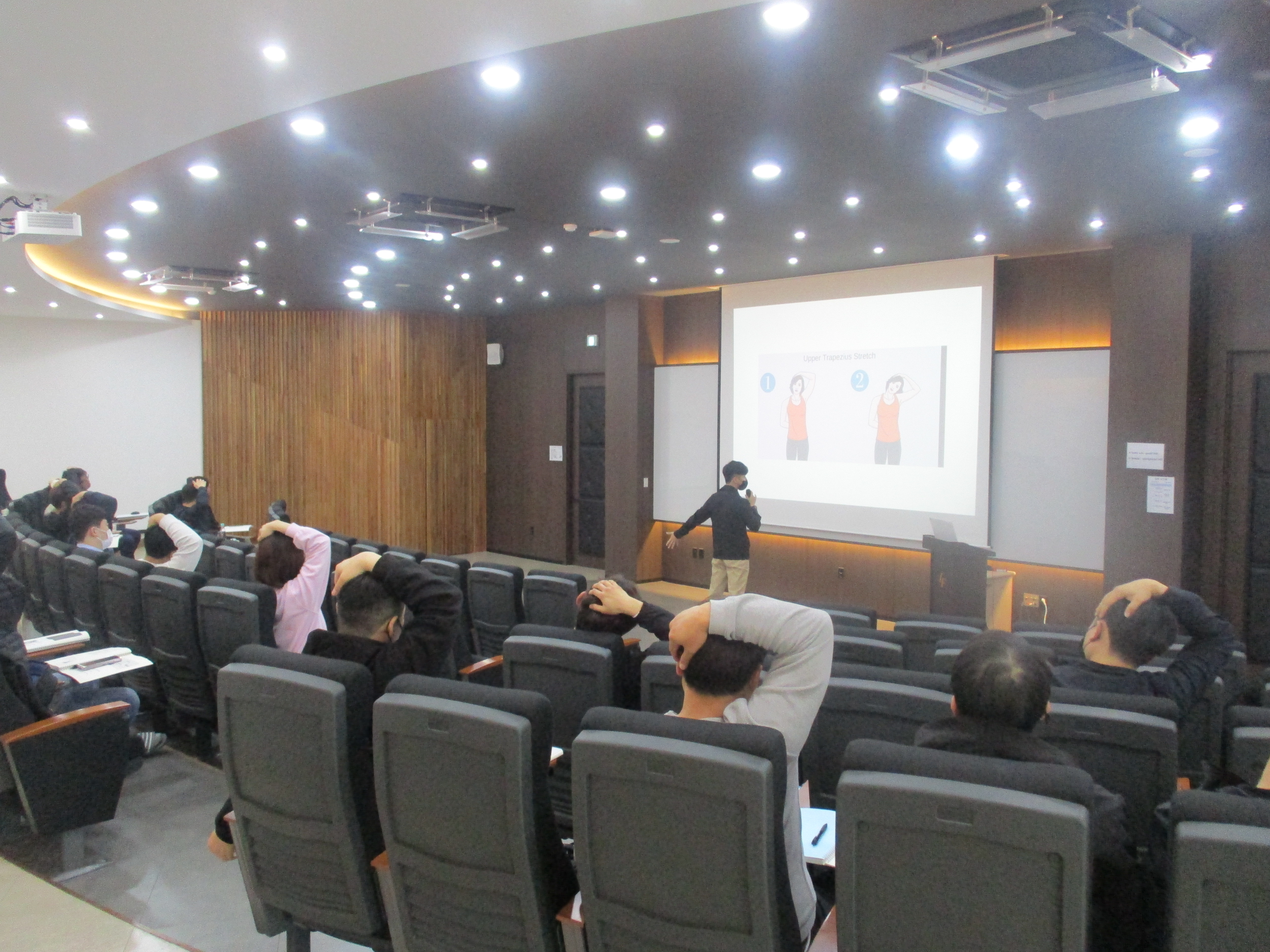 management servivor training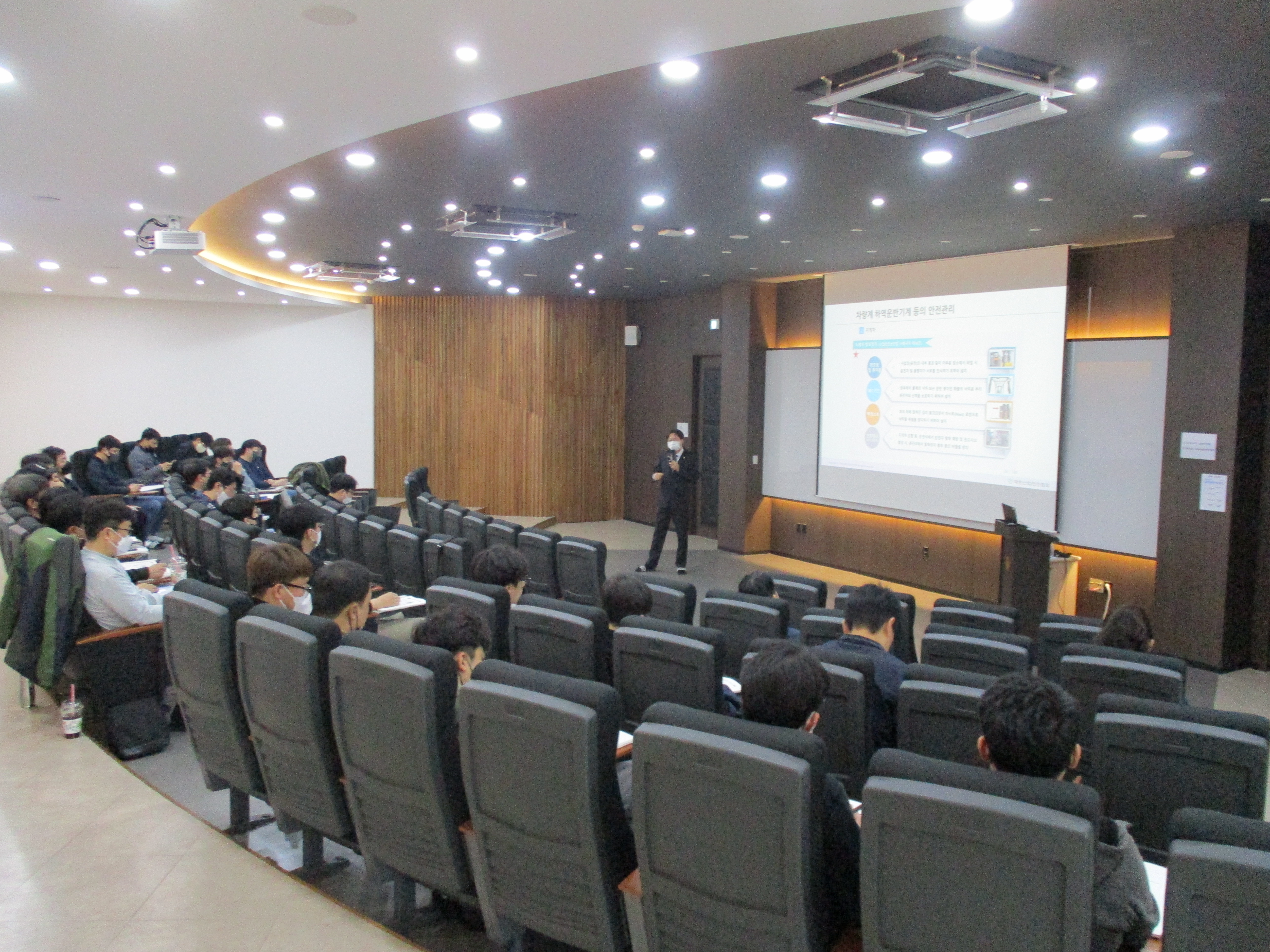 management servivor training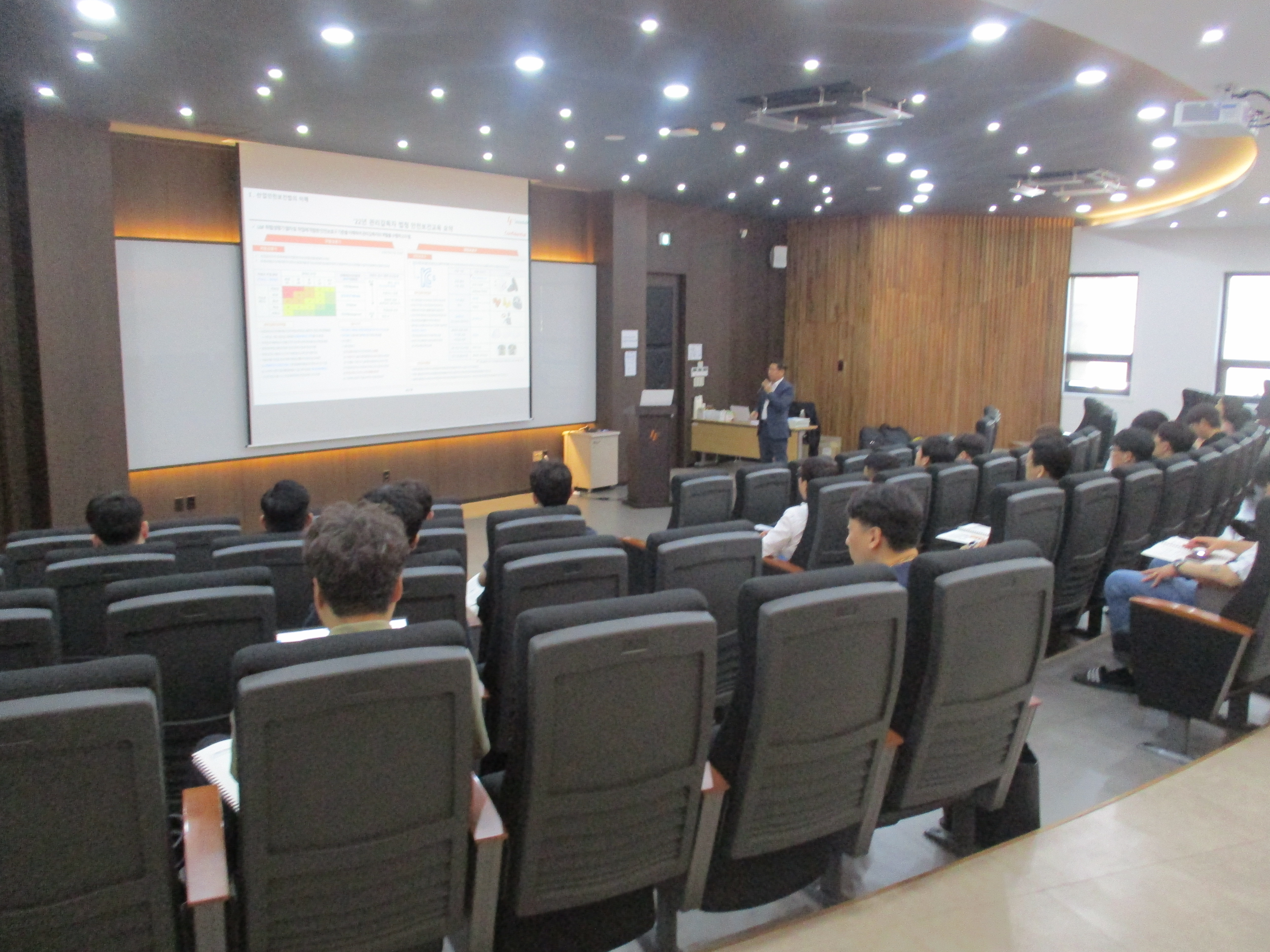 management servivor training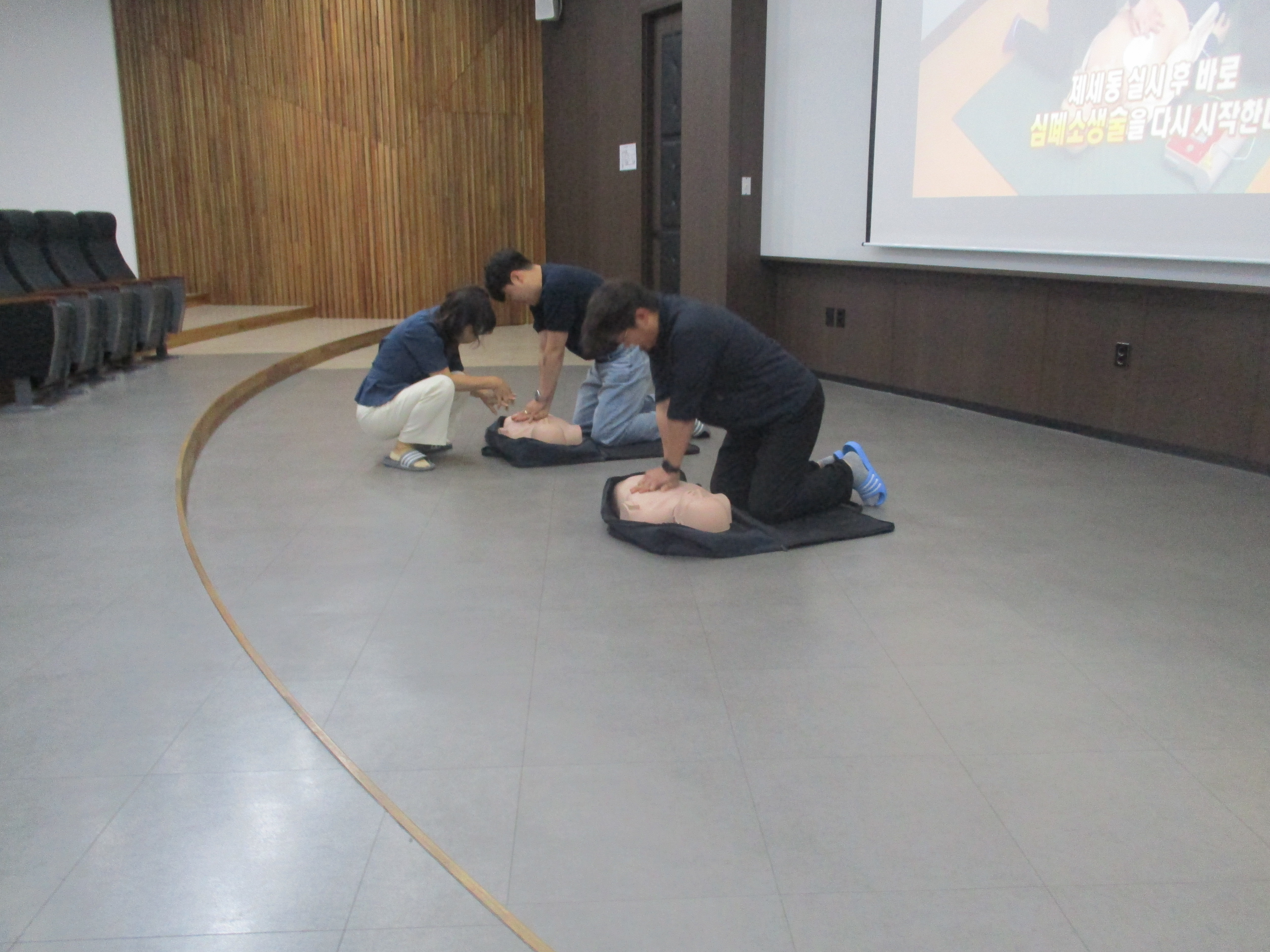 management servivor training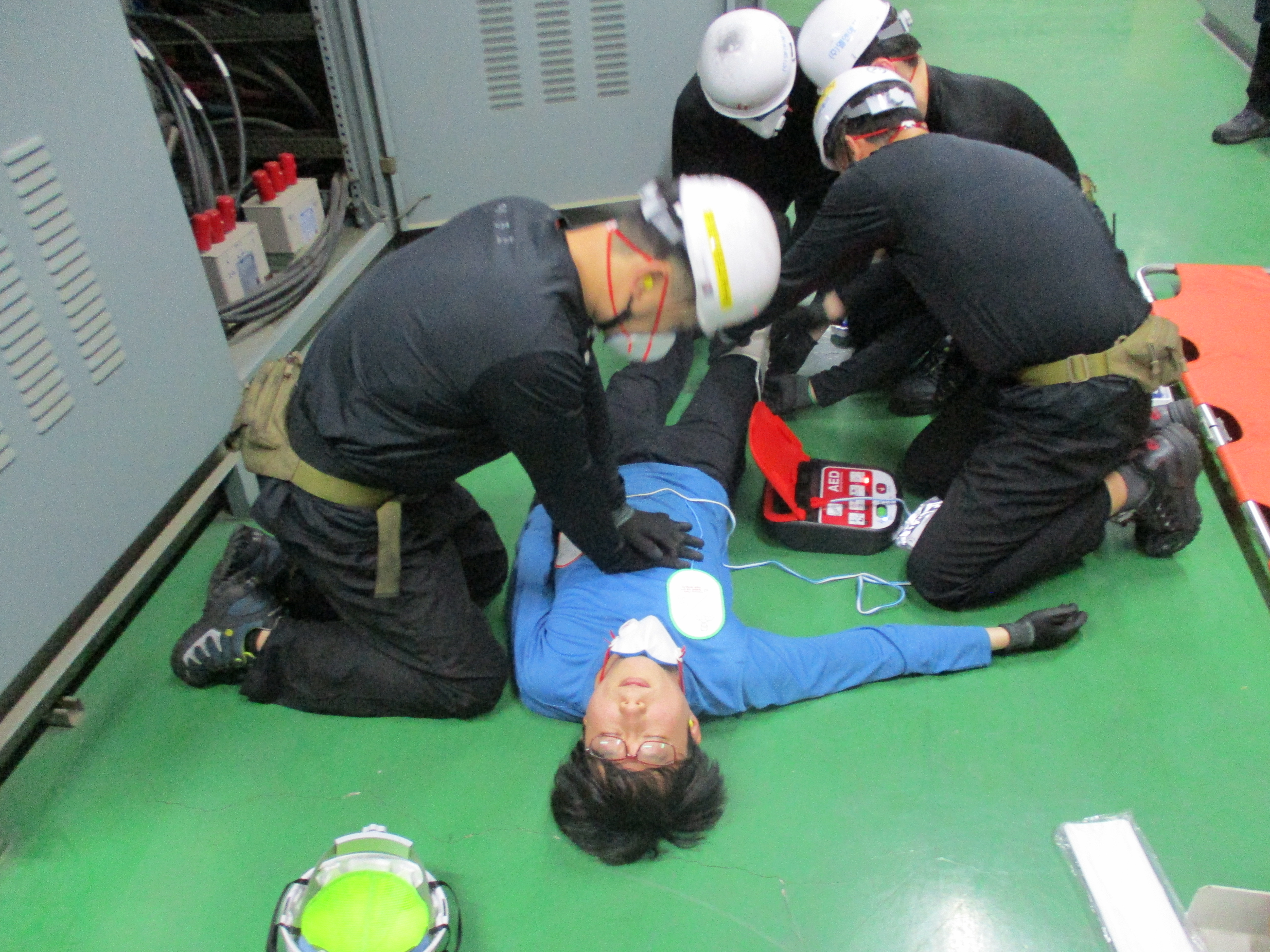 Emergency training waegwan Equipment
Emergency training waegwan Equipment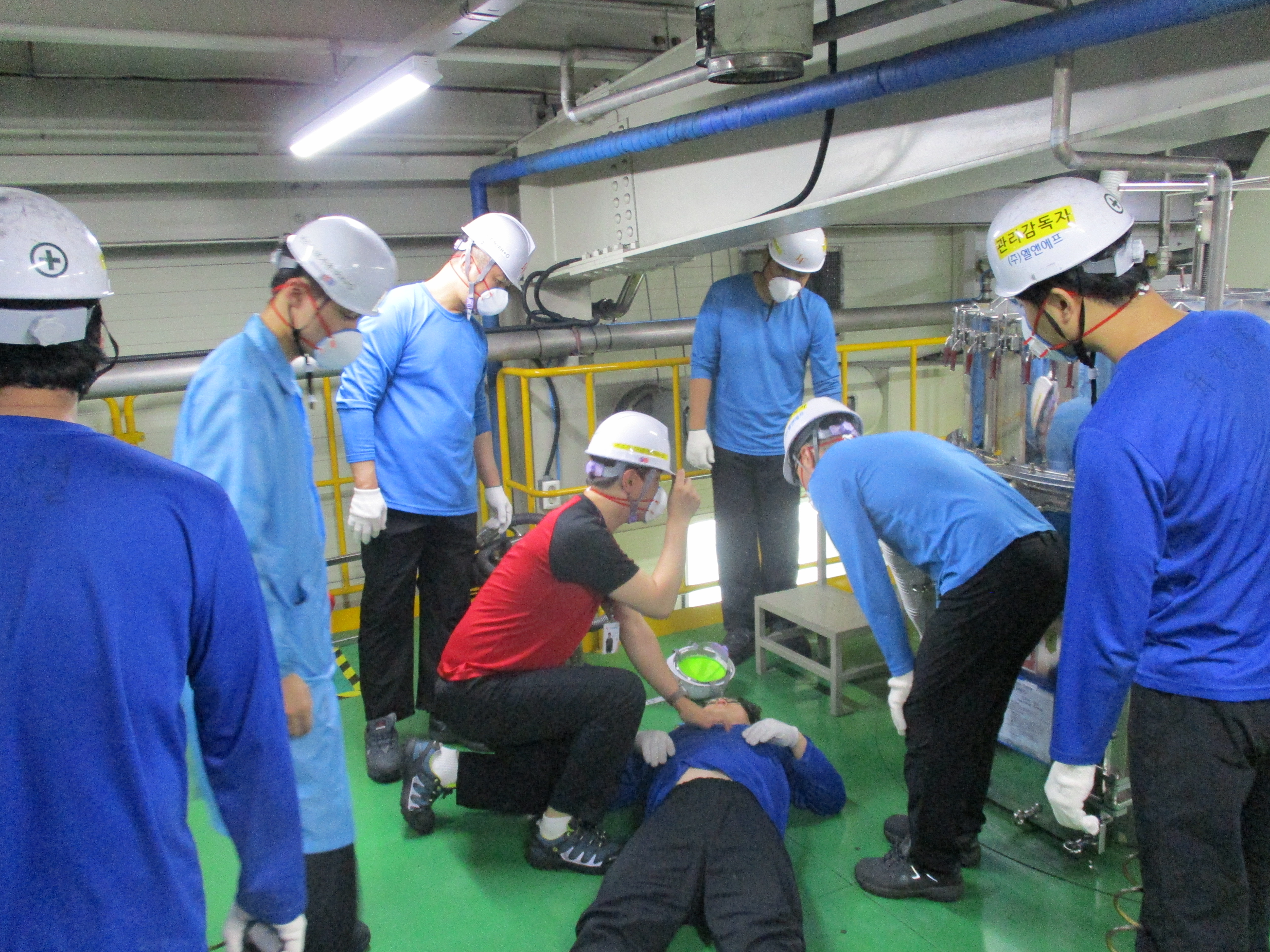 Emergency training waegwan manufacturing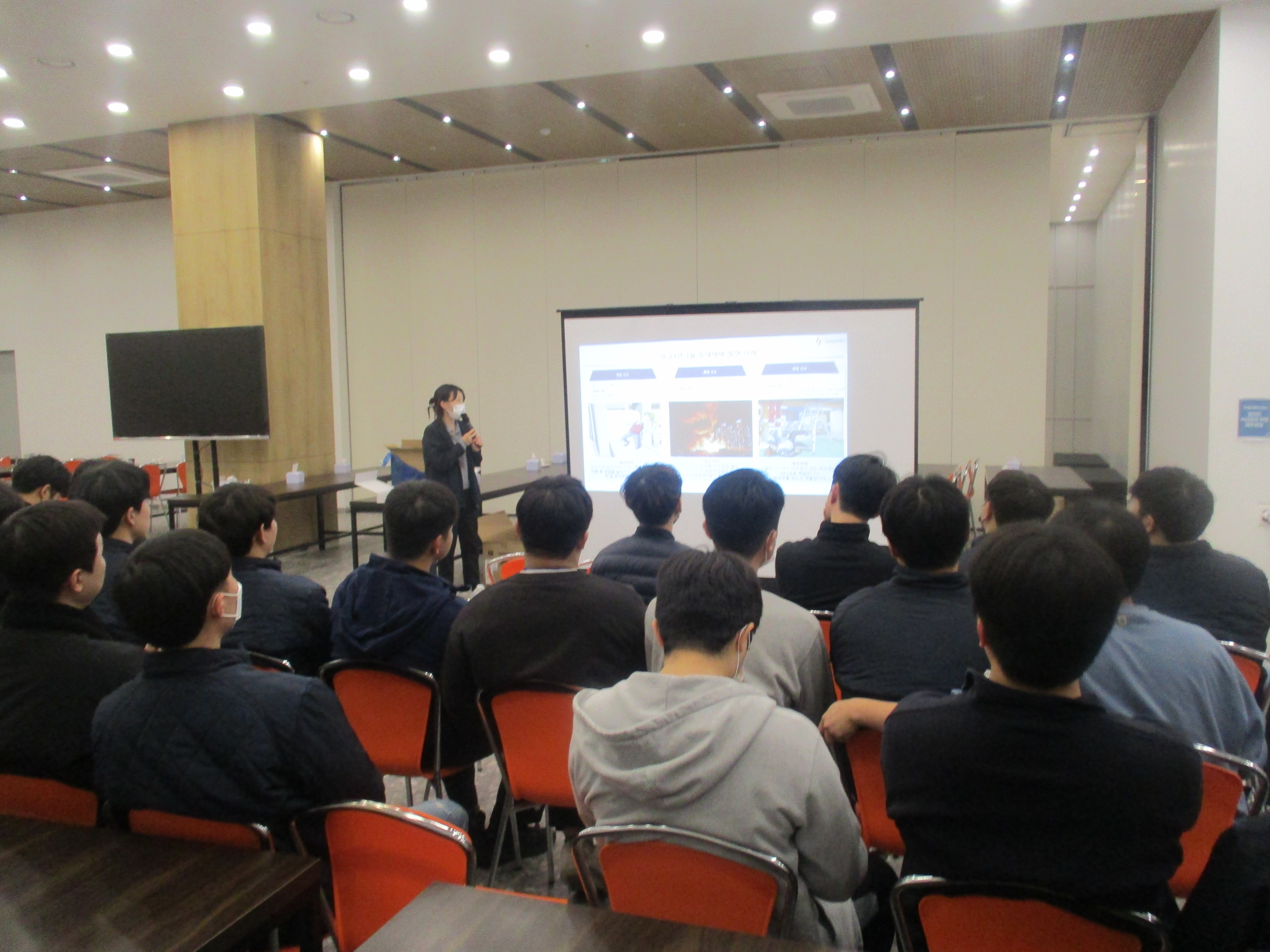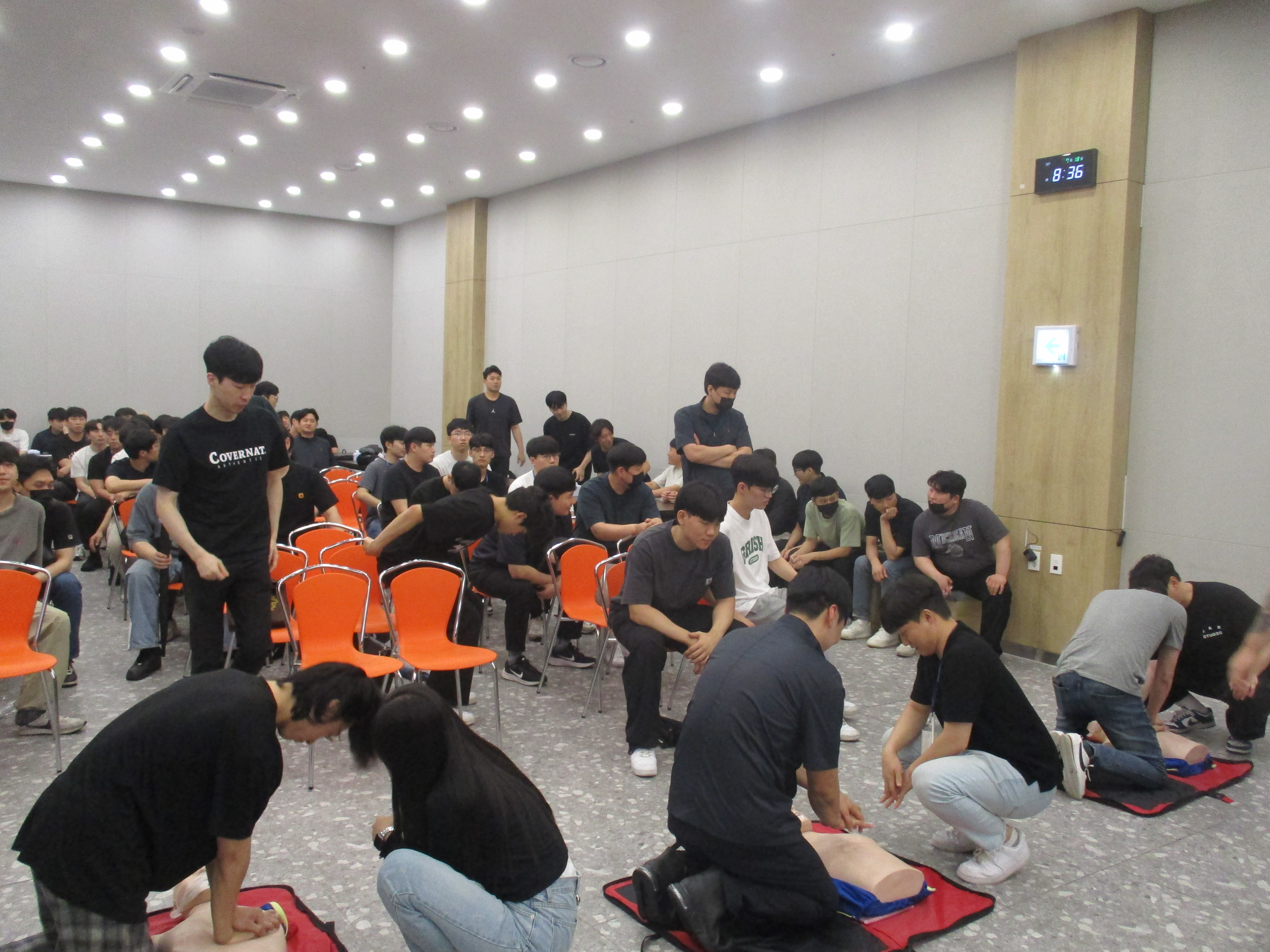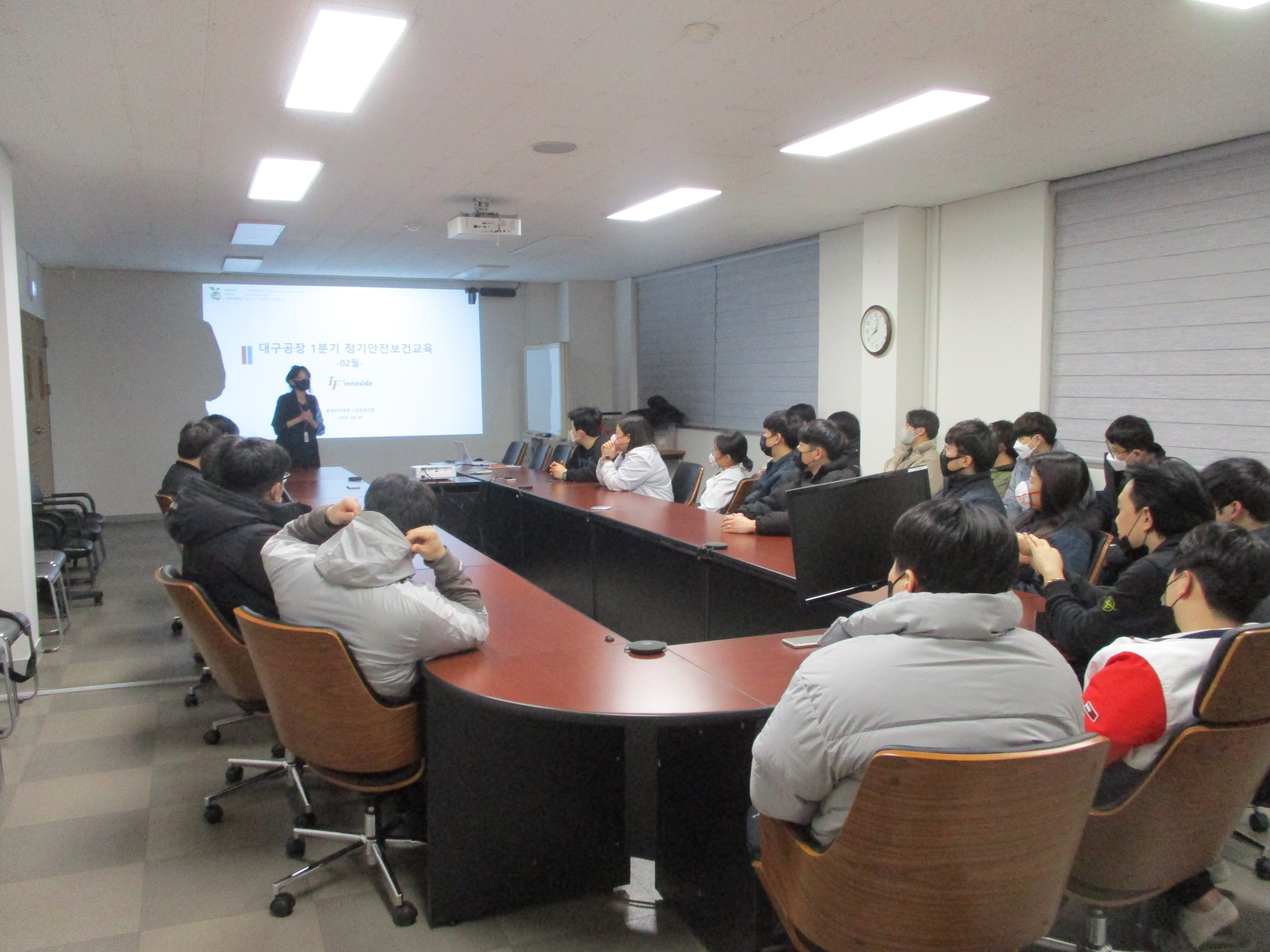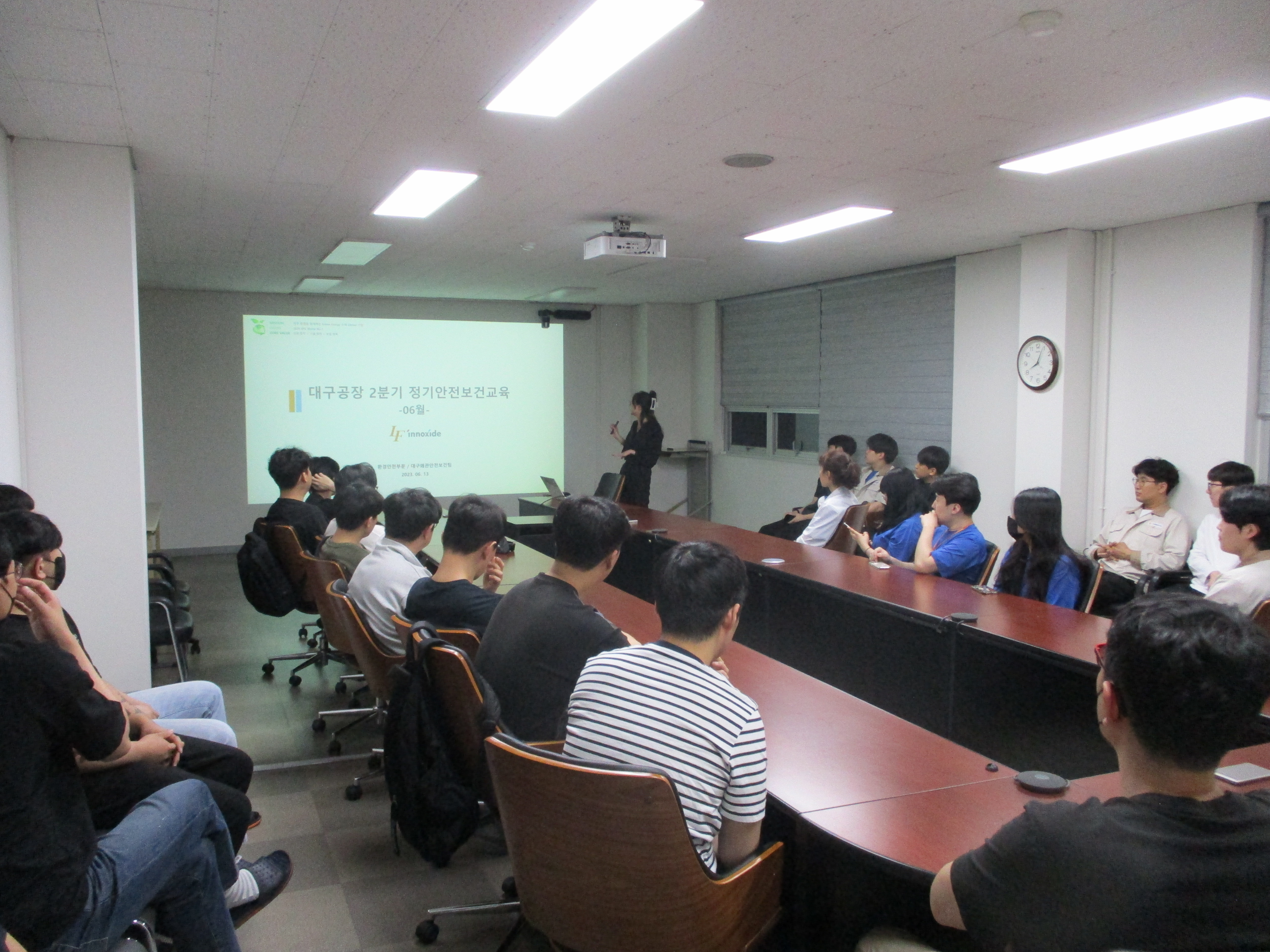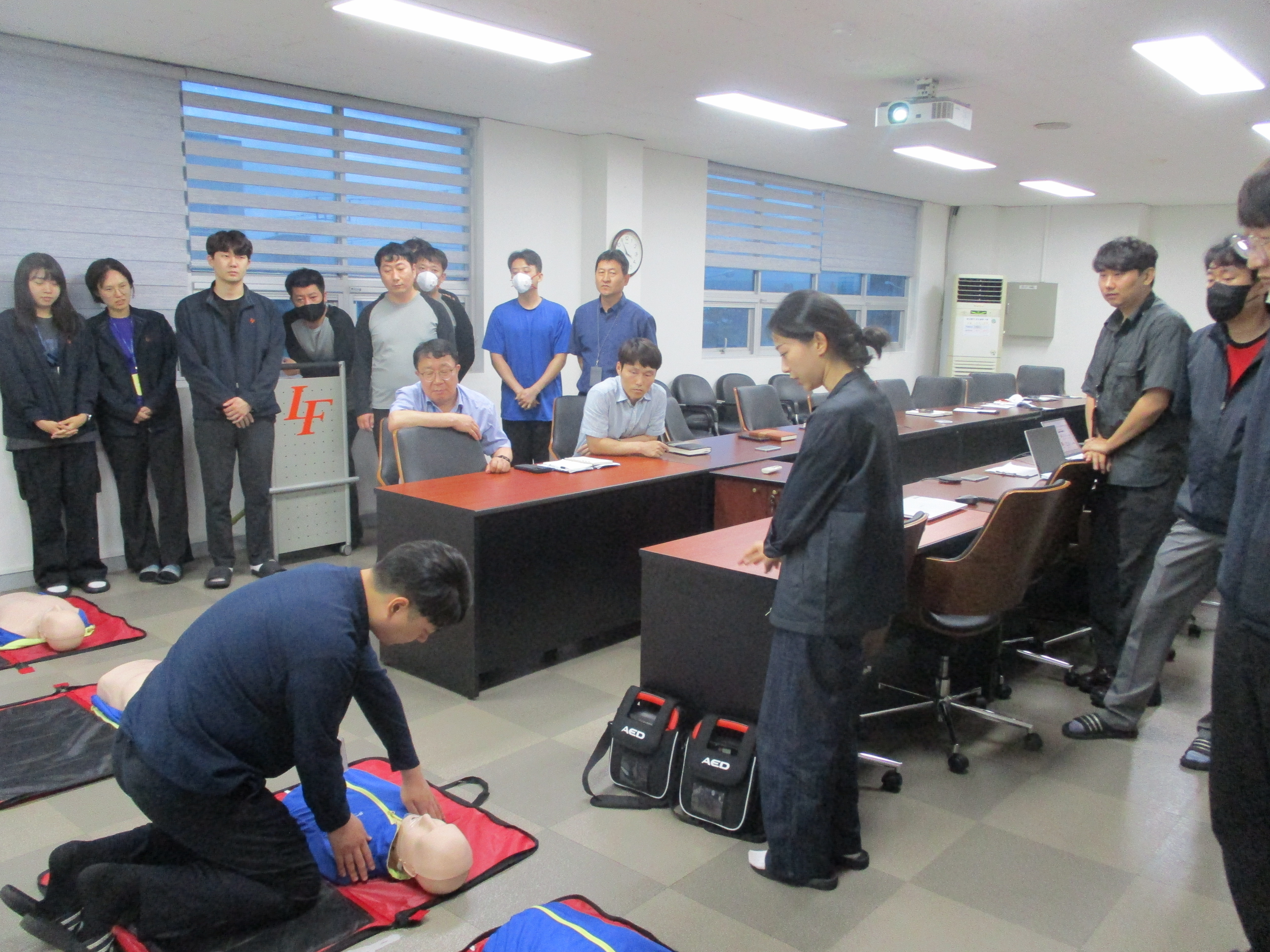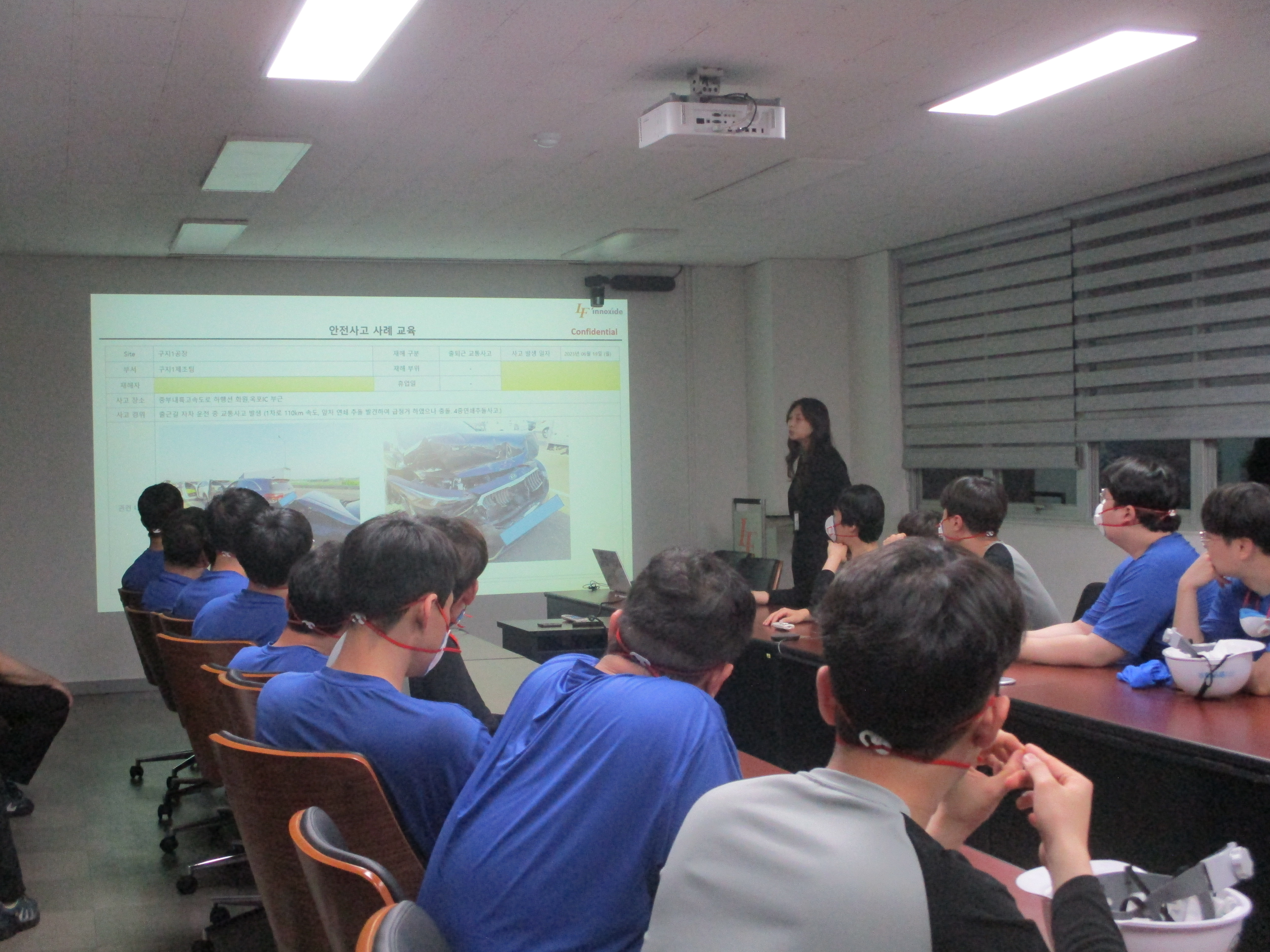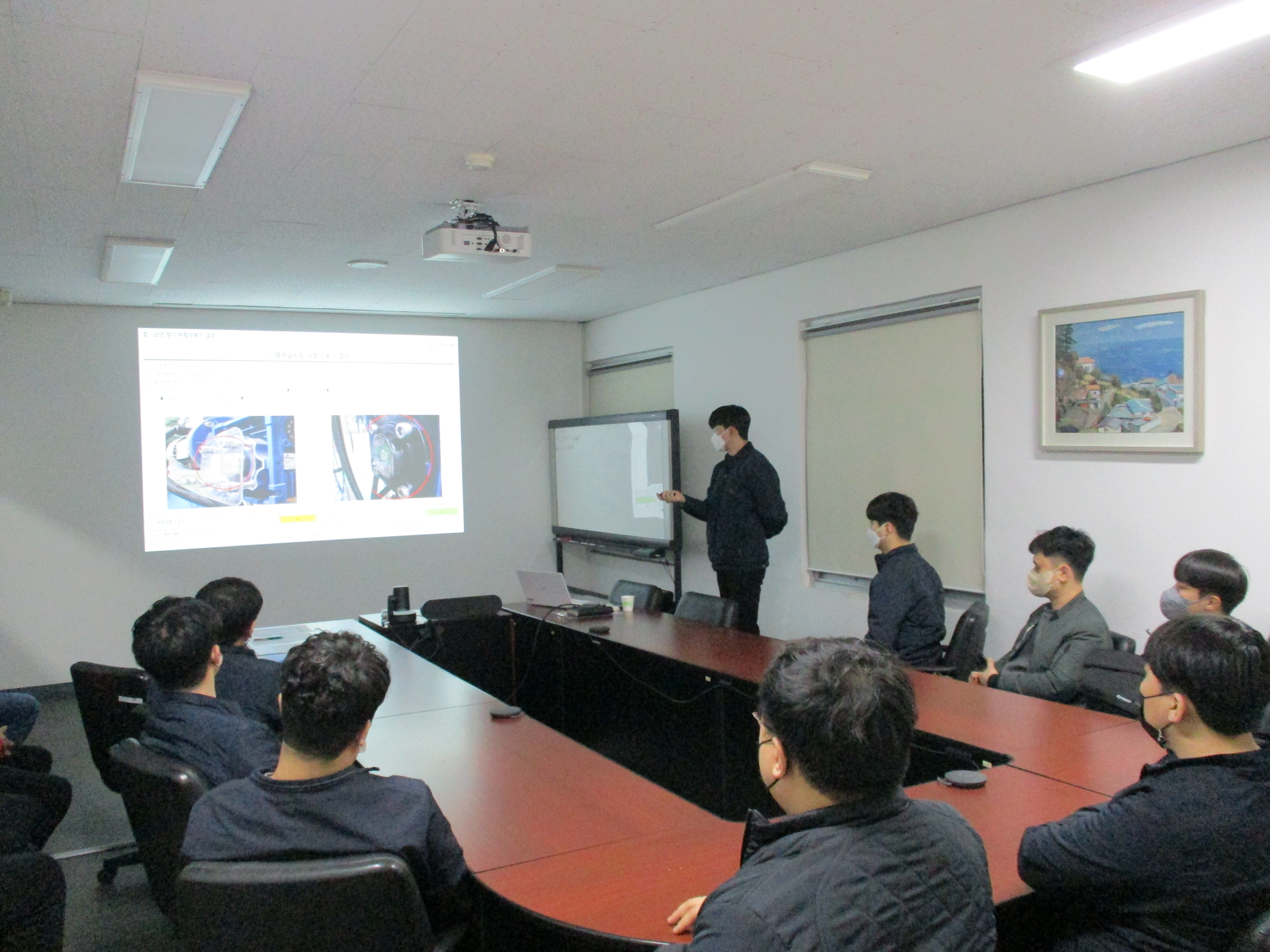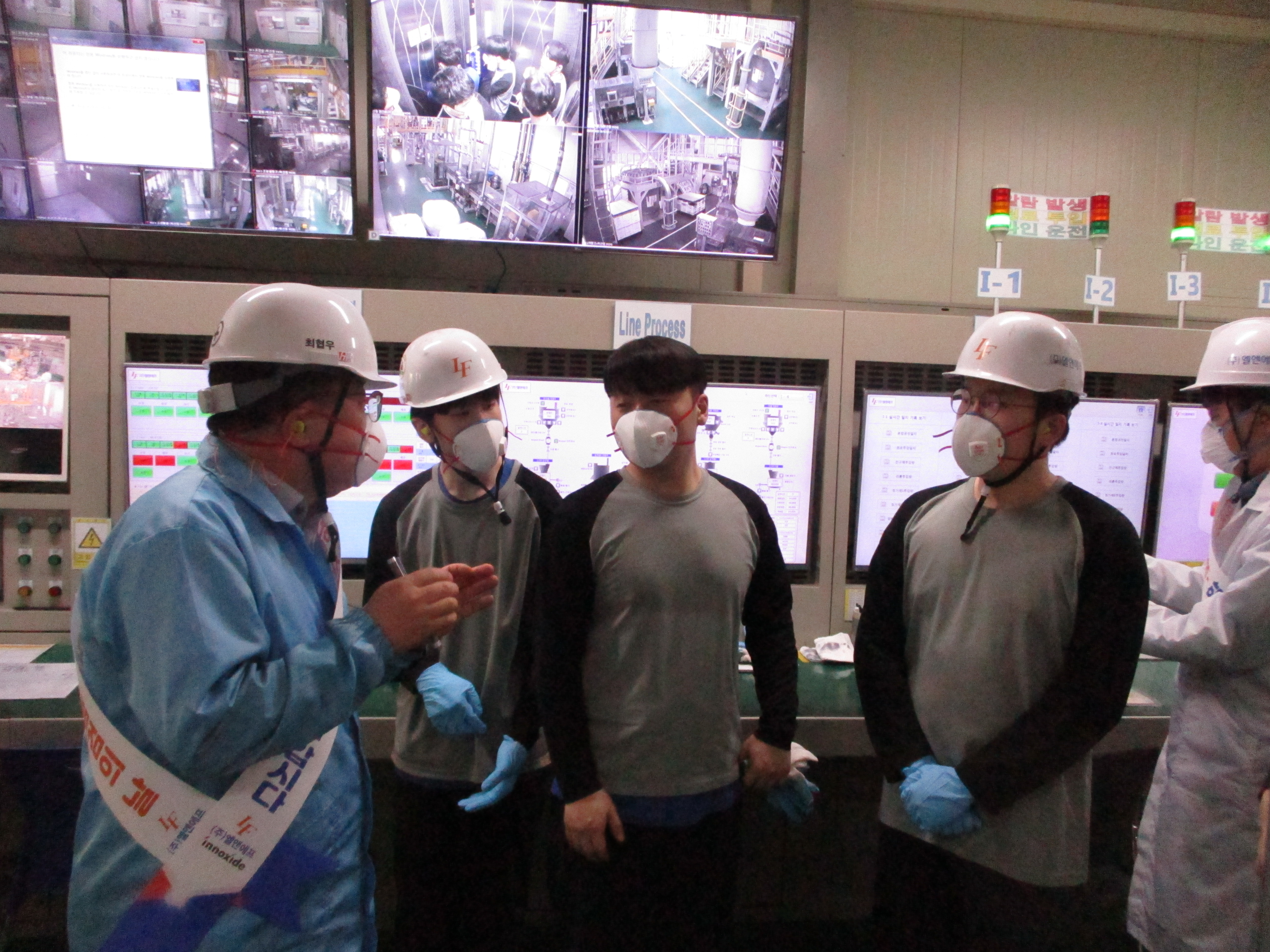 A Day for Safety Daegu - inspection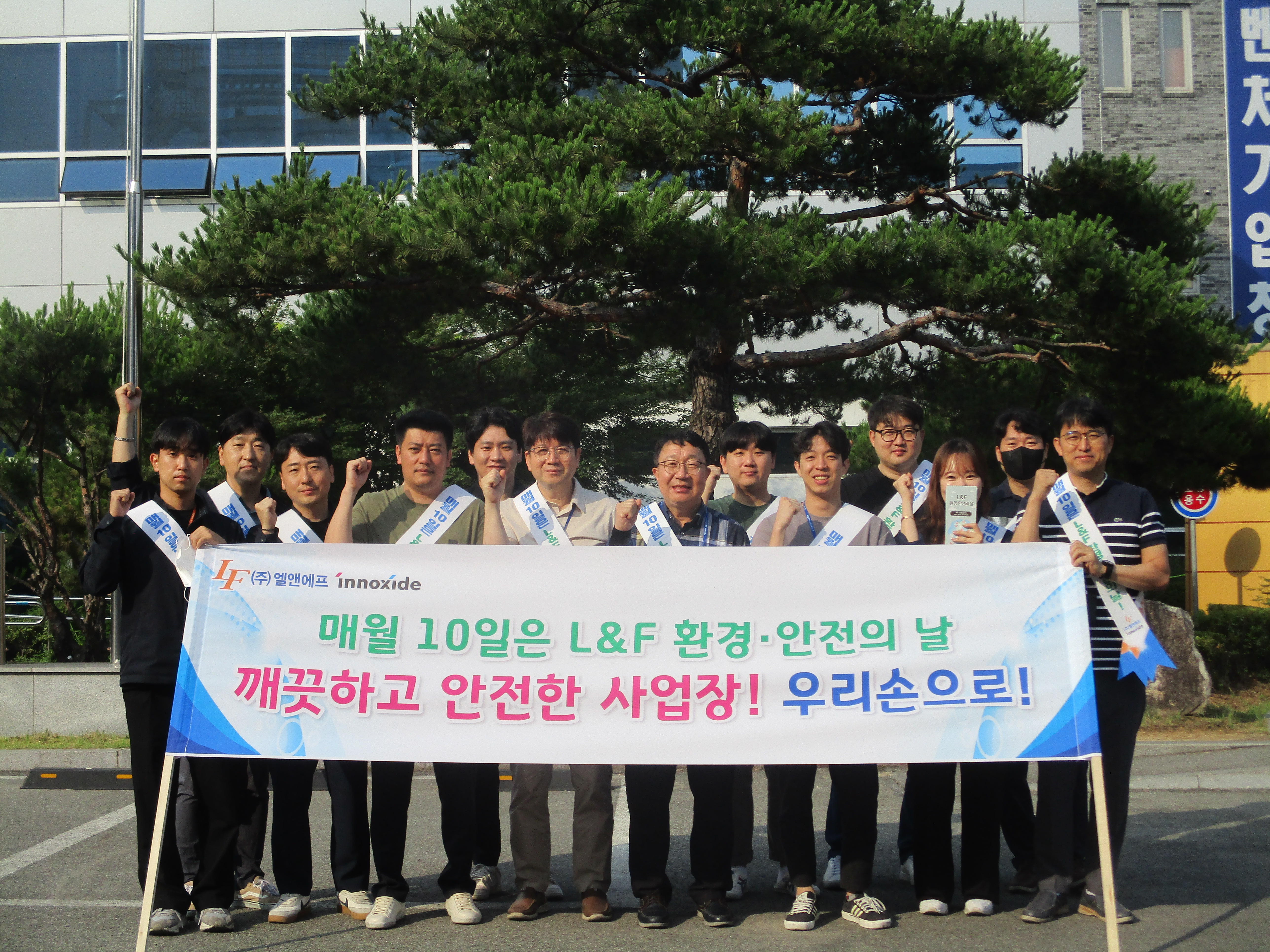 A Day for Safety Daegu - morning event
Ethics Hotline
1. Target
2. Type
3. Processing procedure
You may reports on unreasonable requests using employee positions and employee's receipt of reward (money or other valuables) from interested parties It must be reportedunder the real name of the informant, and non-factual slander and personal privacy matters will not be processed.
2
Workplace Assault / harassment
Any act that infringes on the right and dignity of an employee in the workplace, causing physical or mental pain to other employees or worsening the work environment by using the superior position in the workplace (refer to Article 5 of our workplace harassment prevention regulations)
Acts that make others feel sexually humiliated or disgusted by using their position in the workplace or by sexual verbal or sexual demands related to workActs that gives an employment penalty for the other party's sexual speech or non-compliance with a request
Violation of OECD guidelines for responsible supply chains to enable L&F to investigate and interact with suppliers in conflict areas when purchasing cobalt and other minerals.
5
Child labor exploitation
In connection with the mining and extraction of raw materials, potential human rights violations such as child labor, forced labor, and all kinds of slavery and human trafficking are involved.
Collection and Use of Personal Information
* Personal information collected and the method to collect the information 
Ethics Hotline of the L&F collects personal information for faith treatment of the report within the minimum required range. The information collected is 'Name, e-mail address, telephone (cell phone) number'. If you do not want to provide personal information, you can report via 'Anonymity'. But anonymous reporting may have some limitation in confirming the receipt of report and handling the case. 
* Collection of Personal Information and Its Purpose
Collection of Personal Information and Its Purpose is for handling the report including additional check for the complaint when necessary, help for confirmation of receipt of report, etc. 
* Treatment of Personal Information and Retention Period
Personal information collected via L&F Hotline system is to be kept in principle for 1 year after the closing of the case for the report, but exceptions apply to cases in need of additional retention.* Consent to provide personal information to a third party
In order to handle the report, the personal information may be provided to a related company; if you do not want this, you should use Anonymity Report system.
- Person receiving personal information : Young-chan Lee / Information Security team / phone : 82-53-580-0792 / Team leader / mail : admin@landf.co.kr
- Personal information provided: Name, e-mail address, telephone (cell phone) number
- Purpose of providing personal information: to handle the report including additional check for the complaint when necessary, help for 

confirmation of receipt of report, etc.


- Period of retention and use: the same as Treatment of Personal Information and Retention Period
												
· Employees' job-related misconduct, dishonor, and dignity and acts that damage the reputation of L&F
· Employees' embezzlement of money and commission
· Dissemination of false facts and rumors
· Cases of double employment of L&F's employees
· Acceptance of gifts and entertainment
· Harassment related to personnel such as promotion and hiring
· Leakage of corporate secrets and customer-related information
· Other acts that violate the company's code of ethics
· Unfair Handling of Employee Duties
· Serious Violation of Other Regulations and Company Policies
· A case of disorder caused by sexual harassment