Responsible minerals
"Responsible minerals" refer to minerals that are mined with a commitment to remedying negative factors such as human rights abuses, child labor exploitation, and environmental destruction in the mining process, and to fulfilling social and environmental responsibilities. L&F is actively working with all of its partner companies to amend these negative factors and minimize the impact on the society and environment
Conflict Mineral Management
In 2016, we became a member of the RCI(Responsible Cobalt Initiative)and formulated a 'Responsible Sourcing Policy' outlining the criteria for cobalt and conflict minerals in high-risk regions. We have also called upon new cobalt producers to commit to this policy. Furthermore, we are conducting third-party verification of cobalt smelters by using the Extended Minerals Reporting Template(EMRT) and supply chain mapping tools. We integrate our conflict minerals response process with our partner company's sustainability management system to ensure responsible mineral sourcing.
Supervising Conflict Minerals Management of suppliers
As the management of conflict minerals within the supply chain has gained prominence, we are in the process of refining our conflict minerals management procedures. With the transformation of the previous CSR checklist into ESG evaluation criteria, it has become more challenging for suppliers with conflict minerals issues to be integrated into our value chain. In response to this , we conduct thorough evaluations of new raw material suppliers before their registration. This evaluation covers aspects such as their basic financial structure, production capacity, quality control, environmental impact assessment, and measures against child labor. In particular, we carefully review the polices and management systems related to conflict minerals, including cobalt.
L&F Responsible Sourcing Policy
L&F Responsible Sourcing Policy
Procurement of Cobalt and Raw Materials from Conflict-Affected
and High-Risk Areas
L&F is committed to the responsible sourcing of materials used in the products and it is the core basic values of L&F that to respect and guarantee the rights to human dignity, freedom and happiness throughout the whole supply chain. We know our work is never done, but by strengthening due diligence at every level of our supply chainand partnering with like-minded companies and organizations, we will continue to aggressively pursue the protection of human rights and the environment along our supply chain.
Our requirements
L&F buys parts and components including Cobalt and other minerals and L&F follow the OECD Due Diligence Guidance for Responsible Supply Chains from Conflict-Affected and High-Risk Areas to investigate our supply chain and engage with suppliers. So, we encourage all the suppliers to understand our policy and meet the requirements of our policy as the following;
1 L&F expects its suppliers to avoid all minerals from conflict affected smelters.
2 Minerals related to the mining, transport, trade, handling, processing or export which supports armed,non-stategroups, directly or indirectly are regarded as conflict-affected.
3 L&F expects its suppliers to disclose the origin of materials, when it is required, which are connected to potential human rights violations such aschild labor, compulsory or forced labor and any kind of modern slavery and human trafficking -especially in case of mining raw material and extraction.
4 The suppliers are requested tocarry out and meet their due diligence obligations along the supply chain.This includes theimplementation of measures whichensure that the minerals used by suppliers -particularly tin, tantalum, tungsten, gold and cobalt -do not contribute to the direct or indirect support of armed conflicts or are in connection with violations of human rights.
-. Suppliers needs to have policies and due diligence practices in place to reasonably assure that products andcomponents supplied to L&F are not sourced from conflict minerals. L&F appreciates the need for broad collaboration to reach our objectives L&F joined the Responsible Cobalt Initiative (RCI) in 2016and applied global human rights policies to partnersdealing with L&F across the world in orderto promote sourcing of mineralsthrough continuousmonitoring human rights. The risk factors were checked and requested to be improved and the company is actively cooperating with customers, suppliers, and other stakeholders
In order to present what we expect in hopes of downstream and upstream companies joining our social responsibilities and efforts, L&F has established a code of conduct for our partners throughthemutual effortswith suppliers. We look forward to fulfilling our internationally recognized social responsibilities, achieving sustainable and sound performance, and growing together.
Shared Growth with Supplier
L&F are engaged in various activities to foster mutual growth with our partners.
In addition to providing technical and financial support, we are actively seeking diverse methods to
enhance the growth of our partners and strengthen the competitiveness of the value chain.
Development of ESG Evaluation Metrics for partners Companies
In response to the growing demand for ESG supply chain management, the previous CSR self-checklist Was advanced into the ESG evaluation metrics for partner companies. These metrics encompass three areas-Environment, Social, and Governance - comprising a total of 96 indicators
Category
subcategory
No. of items
No. of items per domain
Environment
Carbon emissions
4
42
Water resources
10
Green technology
3
Chemical substances
7
Waste
6
Air pollution
7
Raw material sourcing
(environmental)
5
Society
Labor and human rights
14
43
Safety and health
12
Raw material sourcing(social)
8
Data security
9
Governance
Ethical management
11
11
Total
96
96
* The scoring system consists of 96 items, with 1 point per item, totaling 96 points.
Prior to engaging in transactions with L&F, partner companies are required to sign our supplier Code of Conduct. This code, established in 2018, encompasses vital aspects including human rights, the Prohibition of forced and child labor, minimum wage guarantees, equitable compensation systems, non-discrimination, diversity promotion, freedom of association, ethical management policies, and responsible sourcing. Each revision, occurring biennially, intergrates key supply chain management concerns, mandating partner companies to take pledge on the updated Supplier Code of Conduct.
Happiness-Oriented Management
L&F is actively exploring various avenues to strike a balance between work and spare time, aiming to pursue a harmonious life. L&F strives to create a people-centric and happy organizational culture to enhance efficient work advancement in collaboration with passionate contributors to the organization.
As L&F values its members, we will make boundless efforts to leap forward as an unstoppable evolving enterprise.
Employee Benefits
Comprehensive and regular checkup
For the health of our employees, we offer annual health cheakups. Particularly, employees aged 35 and above are provided with regular comprehensive medical check-ups for their health management.
In-house gym
We established an in-house gym to promote exercise along with convenient facilities such as massage chairs and lounges.
Medical service discount benefits
We offer up to 20% discount benefits in medical services through partnerships with excellent local hospitals.
Flexible Work System
To ensure work-life balance for our employees, we have implemented various work systems which allow for efficient working schedule such as selective working hours and work-from-home arrangements.
Refresh leave system
We provide Founding Anniversary Leave and annual leave(3 days) setting aside from the annual leave entitlement. Additionally, we support a long-term leave system known as the Refresh Leave to encourage extended breaks and support employees in spending quality time with their families.
External recreation facility
We provide support for employees to use recreation facility located at major tourist destinations nationwide, either free of charge or at a discounted rate.
Tickets for local team matches
We offer support for tickets for home game tickets(Sweet Box) for local sports teams(Samsung Lions)
In-house club activity support
We operate hobby clubs and provide monthly activity allowances for club activities, aiming to facilitate quick adaptation and enhance teamwork among employees.
Commuting Buses
We operate commuter buses free of charge around the business site.
Free in-house cafeteria
We operate an in-house cafeteria to offer complimentary lunch, dinner, and late-night meals.
Gifts for anniversaries / family event support
We provide gifts on Labor Day and national holidays. Additionally, we offer support for family events including leave, congratulatory or condolence money, floral arrangements, and condolence items.
Contributing 50% of IRP
We support our employees' post-retirement security and aim to ensure a stable life by contributing 50% of the payment amount.
Benefits for long-serving employees
After 5 years of service, we provide rewards, additional vacation days, and other benefits in every 5years.
Supporting education expenses
We support education expenses for employees' children entering university.
Local Community Contribution
L&F aims for cooperative growth with local community and shares our growth and development through various events every year. In addition to volunteering activities, L&F consistently donates funds to local organizations, and it strives to achieve sustainable social value by fostering large-scale job creation and developing global production bases, contributing to the mutual growth of the local community. To achieve such mutual growth, L&F is expanding its factory in the Daegu-Gyeongbuk region to create new jobs mainly for local people.
Now a days,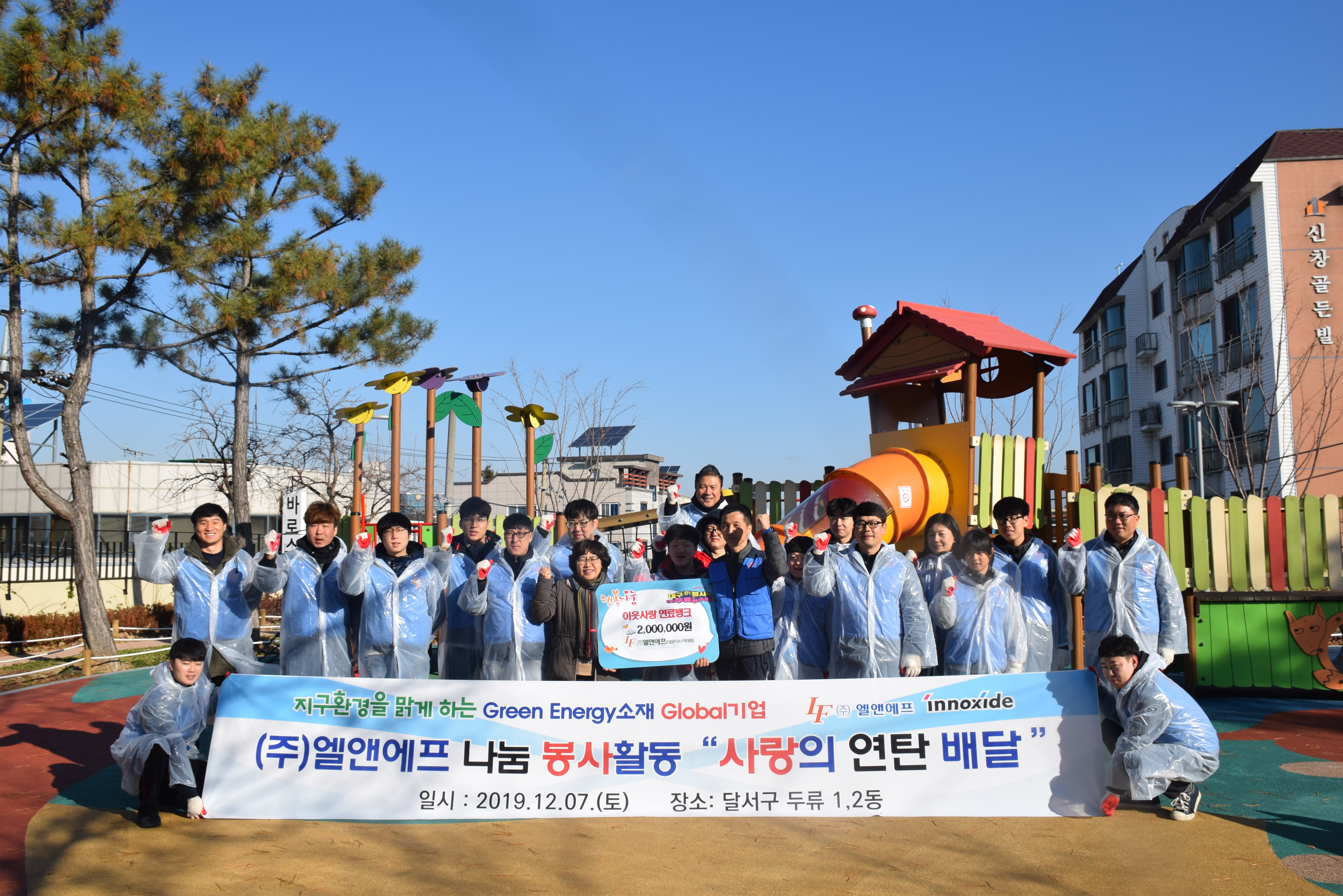 Sharing volunteering Activity
"Delivery Coal Briquettes of Love"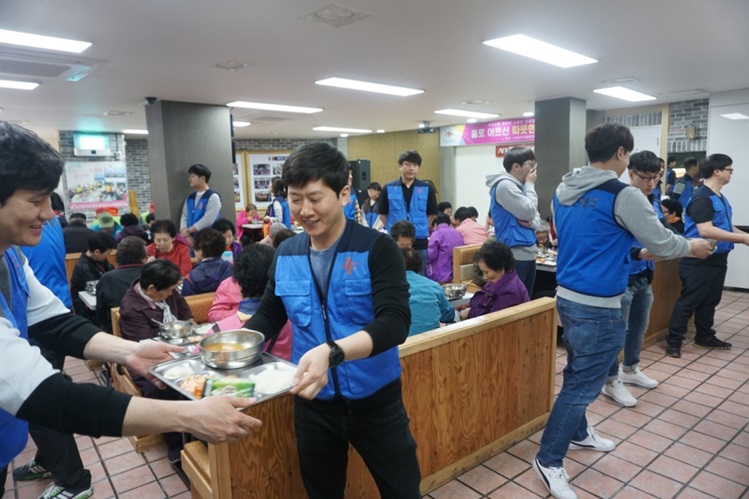 Sharing volunteering Activity
"Sharing Coal Briquettes of Love"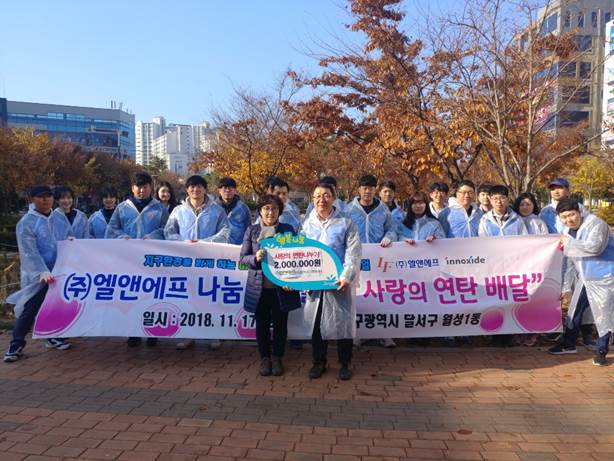 Sharing volunteering Activity
"Delivery Coal Briquettes of Love" in 2018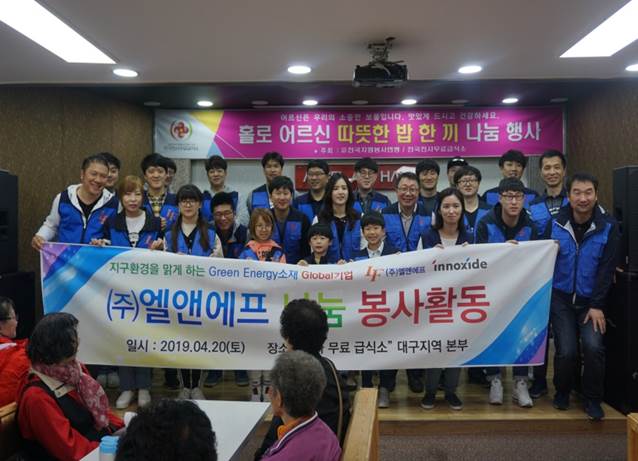 Sharing volunteering Activity in 2019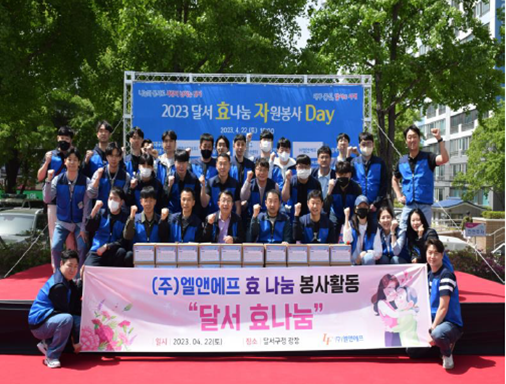 Filial duty Sharing volunteering Activity
"sharing Dalseo Filial duty " in 2023